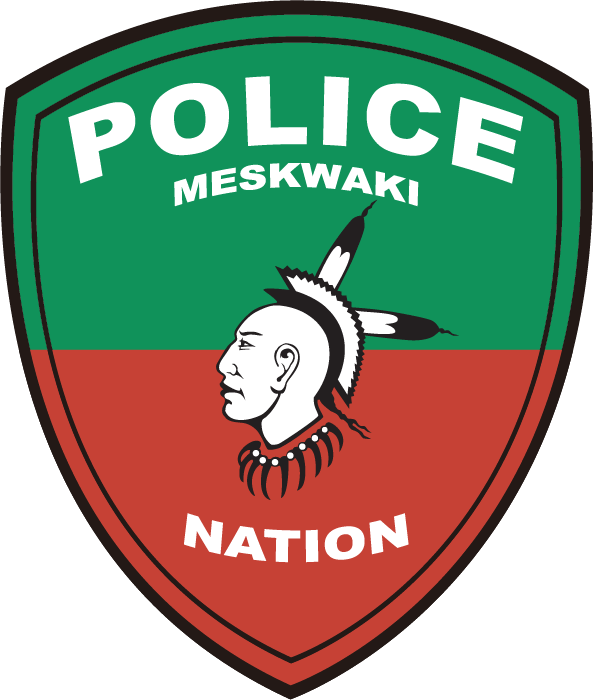 Our Mission
The mission of the Meskwaki Nation Police Department is to improve the quality of life through the reduction of crime, maintenance of public order, and the enhancement of public safety by providing open, honest, and professional law enforcement service while protecting the proud cultural tradition of the Meskwaki people.
About Our Department
Tribal Council Resolution #1-2001, passed January 18, 2011, enacted Articles 1 & 2 of Title 13, Law & Order of the Tribal Code, which legislatively established the Tribal Police Department. The department's operational systems were activated in 2005, and the Meskwaki Nation Police Department (MNPD) patrols began October 1, 2006.
Our Focuses
Community-oriented policing

Working in partnership with Tribal entities

Collaborating with other local, state, tribal, and federal enforcement offices and agencies

Providing 24-hour patrols of the Meskwaki Settlement and surrounding boundaries

Assisting with ambulance medical and fire calls

Assisting motorists in need of help

Crime prevention

Conducting community education and outreach

Co-Sponsor of the Meskwaki Nation-Toledo Police Explorer Post #186 – the program provides career orientation experiences, leadership opportunities, and community service activities.

Sex Offender Registration and Notification Act (SORNA) – site office for the registration of sex offenders.
2022 Meskwaki Youth Turkey Hunt
Raffle Drawing will be held on Tuesday, March 22, 2022
Meskwaki Nation Police Department (MNPD) is inviting four Meskwaki Youth (ages 10-16) to go on a two-day, fun-filled turkey hunt with Meskwaki Mentors (mentours TBD).
Four (4) participants will be chosen in a raffle drawing.*
If you entered your child last year and their name was not drawn, their name will be entered into the raffle twice this year.
If your child WAS chosen in a past youth hung event, he/she will NOT be eligible for future hunting events.
*MNPD would like to give every child the opportunity to enjoy this experience, however space is limited.
Hunt participants will learn how to clean birds, and also get to take one home to share with family and friends. A customized turkey call will be gifted to each participant.
MNPD Firearms Instructor Sgt. Kole Northland will instruct a Firearms Safety Course on April 8, which will be a requirement in order to participate. All equipment will be provided.
Call MNPD for any questions at (641) 484-4844.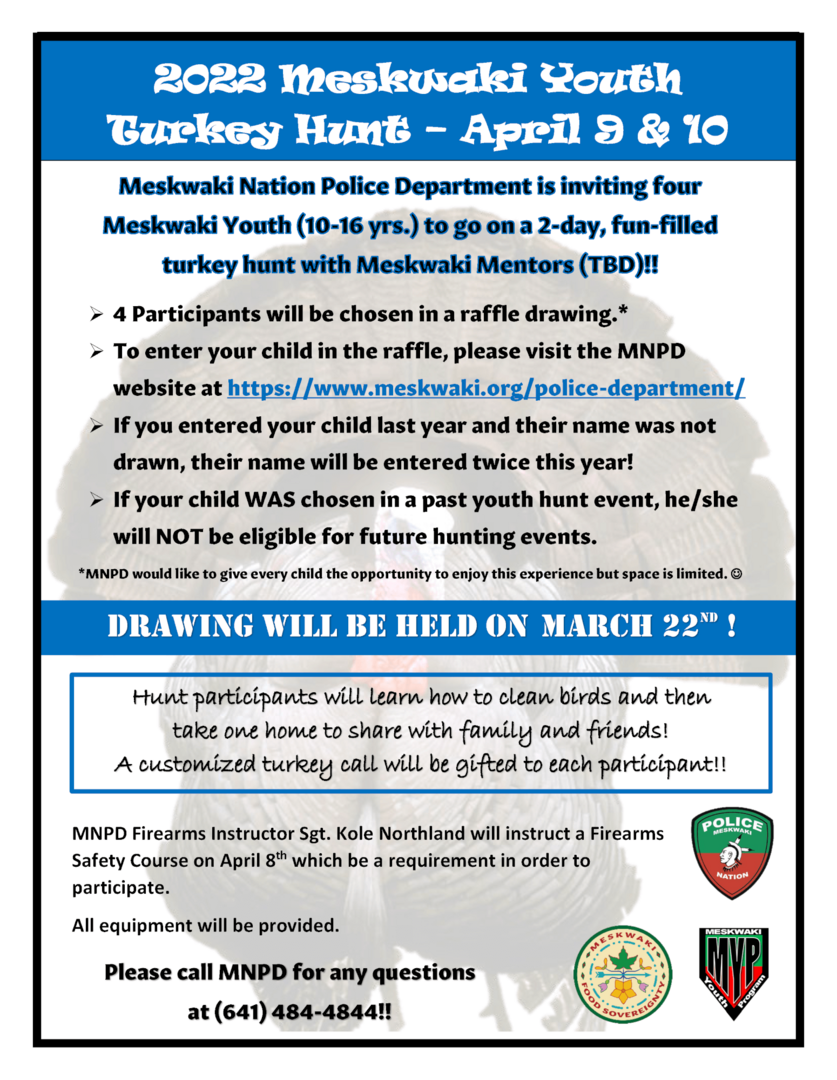 Commissioner Mark V.
Bear
Police Commissioner
Commissioner Mark V. Bear joined the Meskwaki Nation Police Department as Commissioner (interim) in 2022. He has 12 years of law enforcement experience. As a tribal member who resides on the Settlement, Commissioner Bear advises the MNPD on how they can further enhance the relationship with the community and works on ways to better involve the community with services and overall enhance quality of service. He has an open door policy and seeks ways to involve the community in decision making.
Chief of Police
Chief Jacob Molitor joined the Meskwaki Nation Police Department in 2012 and was promoted to Chief of Police in May 2019. He is proud to be the only Chief of Police in the department's history who started as a patrol officer and was promoted from within. Chief Molitor followed in his uncle's footsteps by entering into the public safety profession. His uncle James "Jim" Chan served a combined 34 dedicated years in three different agencies: the Pope County Sheriff's Office (MN), Minnesota State Patrol, and the Glenwood Police Department (MN).
Chief Molitor obtained his Associate in Applied Science Degree in Law Enforcement from Alexandria Technical & Community College in Minnesota and his Bachelor of Science Degree in Law Enforcement from Minnesota State University, Mankato. While employed with the Meskwaki Nation Police Department, he graduated with his Master of Science Degree in Public Safety Executive Leadership from Saint Cloud State University, located in his hometown in Minnesota. Upon his promotion to Chief of Police, his top priorities were to implement department cultural training; provide bi-annual education on the "use of force" to council members and others within tribal operations; improve partnerships with surrounding agencies; and increase communication, transparency, and accountability for the public. The department collects numerous statistics to best allocate resources; monitor employee performance and expectations; and measure outcomes as a method to increase public trust and confidence. In February 2020, Chief Molitor's team became the first known police department to collect de-escalation statistics. The agency collects those statistics using its own defined metrics. Their process of documenting and recognizing de-escalated situations assists with community support, officer safety alerts, and the praise of officers. The department maintains trust with the community by going the extra mile to do the little things such as vehicle unlocks, jump-starts, and checking in on the elderly. His team provides these services in accordance with their community policing and problem-solving approach. Chief Molitor has been consistently supported by the Meskwaki Nation and has been able to advance his leadership skills through training and experience. He has attended leadership training such as the International Association of Chiefs of Police conferences, the United States Indian Police Academy Chief of Police Command School through the Bureau of Indian Affairs-Office of Justice Services, FBI Law Enforcement Executive Development training, and the Department of Homeland Security Leadership Academy. Additionally, Chief Molitor serves as the Chair of the Small & Rural Law Enforcement Executive's Association and a member of the Iowa Juvenile Justice Advisory Council. Chief Molitor's agency prides itself on being innovative, respectful, supportive, and well trained. If he had to choose, the most important training sought by Chief Molitor would be interviewing, de-escalation, crisis intervention, and leadership-related training because they revolve around effective communication. He believes that our most important assets are our people and that we need to invest in their futures. Highlighting positive community interactions and building the reputation of his agency are very important to Chief Molitor. In 2020, he implemented an "officer of the year" award program to reward officers and increase productivity. Chief Molitor regularly seeks and applies for grant opportunities to improve operations and service to the community. He introduced brand identity to the police department through a grant purchase of a large outdoor-lighted sign and electronic message board located by the road outside the department. Chief Molitor understands the importance for agencies around the country to reflect the demographic of the communities that they serve. To reach this goal, he believes that we must maintain our hiring standards, but appeal to the youth and concentrate on our efforts in schools. He feels that it must be a priority to devote time to youth by attending formal programs, lunch, recess, and beyond. These efforts will inspire the next generation of public safety professionals. "It is a privilege to serve the proud Meskwaki Nation as their Chief of Police," stated Chief Molitor. "I am proud to represent this noble profession and am eager to seek opportunities to learn and develop."
Read More
Lieutenant in charge of Patrol and Detectives
Having grown up in Sacramento California, Jeff started his Public Safety career in 1983 as a Firefighter/EMT with the Citrus Heights Fire District. Jeff moved into Law Enforcement in 1989 After graduating from the POST Academy as a Correctional Deputy II with the Sonoma County Sheriff's Office. Jeff moved his family to Iowa in 1993 and continued his Law Enforcement career by joining the Toledo Iowa Police Department as a Community Oriented Policing Officer.
Jeff continued his education and training in such things as Sexual Assault Case Investigations, Mental Health, Crime Scene Investigations and EMS. In 1998 Jeff was hired as Chief of the State Center Police Department in Marshall County, a position he held for 21 years until his retirement. Jeff has had the opportunity to volunteer on the Marshall County 911 board, State Center Kaufman Grant Board, State Center Fire/Rescue and is a member of the Iowa State Police Association. Jeff Came to the Meskwaki Nation Police Department in November of 2019 and is the Lieutenant in charge of Patrol and Detectives. Jeff is married to his wife Misty and has four boys, two of which serve in the Iowa Army National Guard. Jeff has a passion for helping people and has devoted his entire working life to just that. Jeff is a devoted Christian along with his wife Misty and enjoys traveling and spending time together with family and friends. I am so happy and honored to be a member of the Meskwaki Nation Police Department Team and to serve the proud Meskwaki community. I have learned and have so much respect for the Meskwaki Culture. I have been welcomed by our community and could not ask for any more than that.
Read More
Assistant Chief Dustin
Blackburn
Assistant Chief
Dustin grew up in Conrad and graduated from BCLUW in 2003. He attended Loras College in Dubuque. He graduated there in 2007 with a Bachelor of Arts degree in Criminal Justice. Dustin started his law enforcement career in 2008 with the Grundy Center Police Department.
Dustin joined the Meskwaki Nation Police Department in April of 2014 as a part-time officer. He joined the department full-time the next month. Dustin has served as a Police Officer, Sergeant, Lieutenant, and he was promoted to Assistant Chief in May of 2017. He has served the department as a Field Training Officer, Taser Instructor, Evidence Custodian, SORNA coordinator, and numerous other assignments. Dustin completed the Chief of Police Command School at the United States Indian Police Academy in April of 2018. He attended the Department of Homeland Security Leadership Academy session 8 in November of 2019. Dustin has been married since 2010 and has 3 children. In his off time, Dustin enjoys spending time with his family, golfing, and playing video games. He is an avid baseball fan and cheers for the Chicago Cubs.
Read More
Frequently Asked Questions
** 
Department Contact Information
Office Hours
Monday – Friday: 8:00 am – 4:30 pm
Physical & Mailing Address
1632 305th Street
Tama, IA 52339
Phone Number  
Office Telephone: (641) 484-4844

Our officers provide 24-hour coverage.
For 24-hour non-emergency assistance and to be connected to the MNPD officer on duty:
Dial (641) 484-3760 (Meskwaki/Tama County Dispatch telephone number)

Choose option 1

Ask to speak with the MNPD officer on duty
Fax Number
(641) 484-4843
Office Location
We are located on the 2nd floor of the Public Works Building. Use the east side entrance and walk up the stairs to find our office.
Connect With Us on Facebook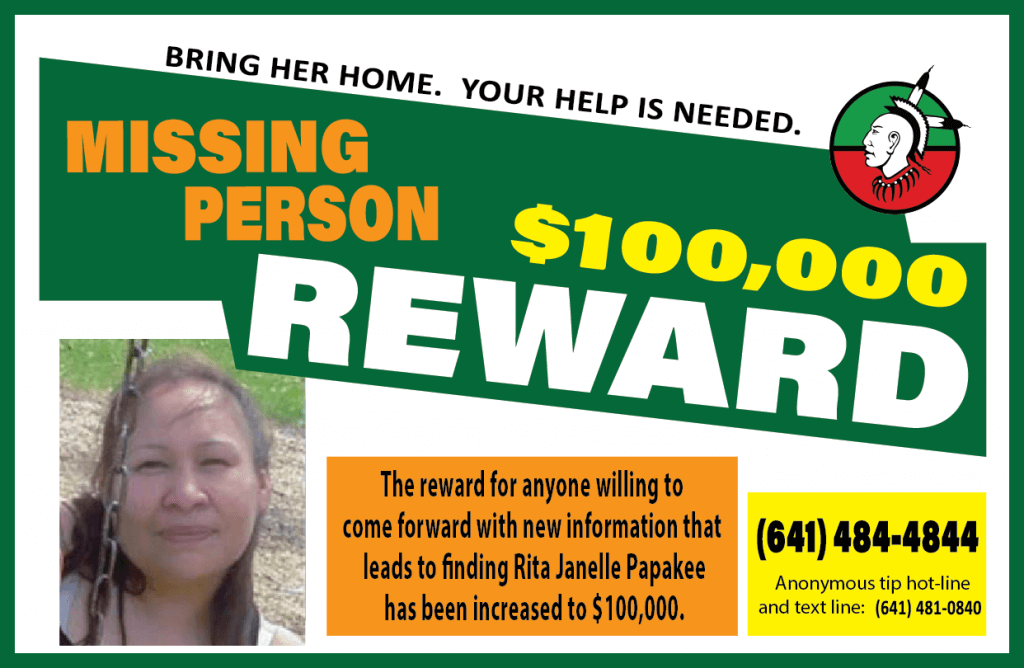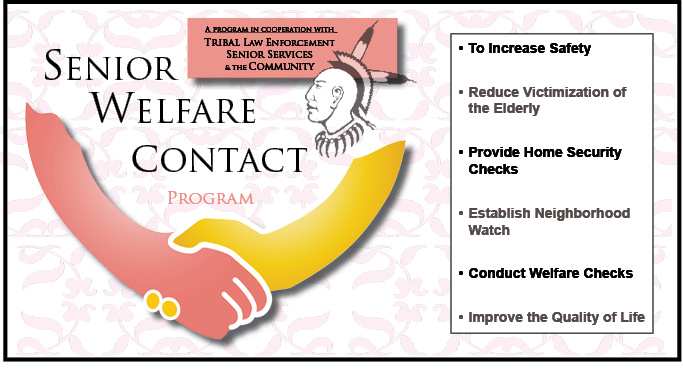 Contact the Meskwaki Nation
Get in touch with our main office if you have general questions or need assistance finding the correct department to contact.