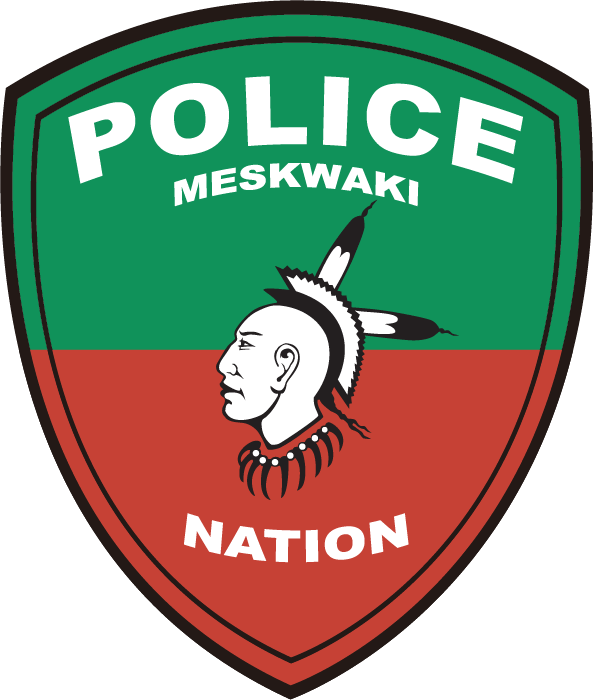 Our Mission
The mission of the Meskwaki Nation Police Department is to improve the quality of life through the reduction of crime, maintenance of public order, and the enhancement of public safety by providing open, honest, and professional law enforcement service while protecting the proud cultural tradition of the Meskwaki people.
About Our Department
Tribal Council Resolution #1-2001, passed January 18, 2011, enacted Articles 1 & 2 of Title 13, Law & Order of the Tribal Code, which legislatively established the Tribal Police Department. The department's operational systems were activated in 2005, and the Meskwaki Nation Police Department (MNPD) patrols began October 1, 2006.
Our Focuses
Community-oriented policing

Working in partnership with Tribal entities

Collaborating with other local, state, tribal, and federal enforcement offices and agencies

Providing 24-hour patrols of the Meskwaki Settlement and surrounding boundaries

Assisting with ambulance medical and fire calls

Assisting motorists in need of help

Crime prevention

Conducting community education and outreach

Co-Sponsor of the Meskwaki Nation-Toledo Police Explorer Post #186 – the program provides career orientation experiences, leadership opportunities, and community service activities.

Sex Offender Registration and Notification Act (SORNA) – site office for the registration of sex offenders.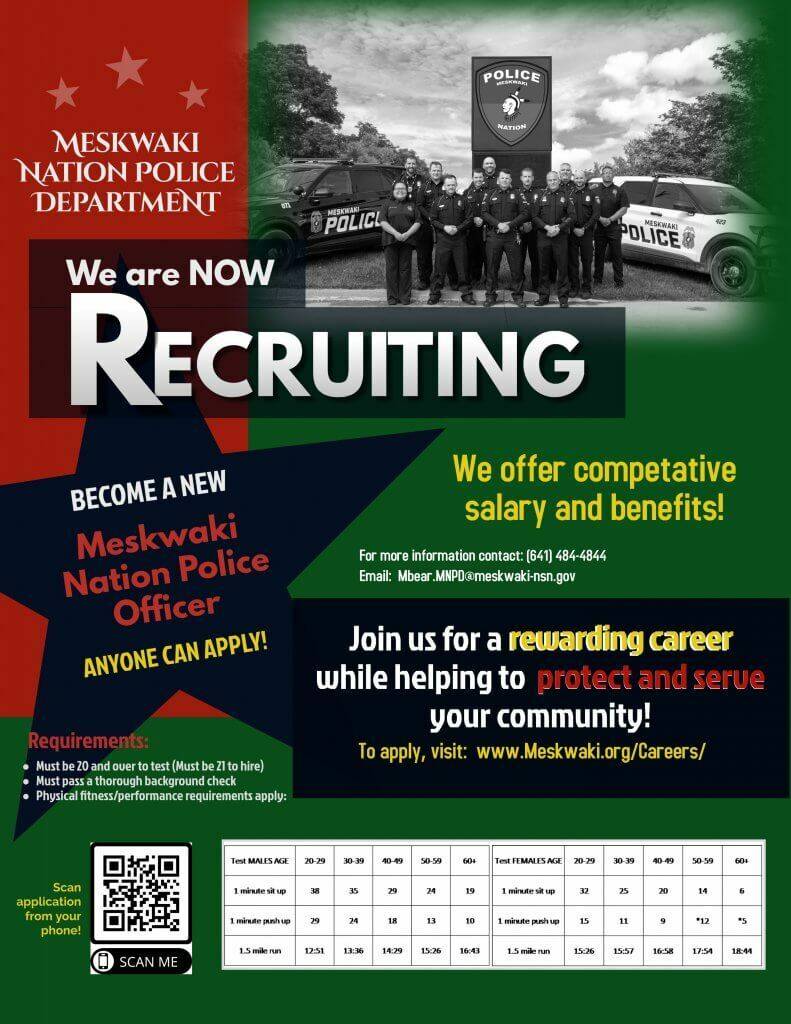 Police Chief
Having grown up in Sacramento California, Jeff started his Public Safety career in 1983 as a Firefighter/EMT with the Citrus Heights Fire District. Jeff moved into Law Enforcement in 1989 after graduating from the POST Academy as a Correctional Deputy II with the Sonoma County Sheriff's Office. Jeff moved his family to Iowa in 1993 and continued his Law Enforcement career by joining the Toledo Iowa Police Department as a Community Oriented Policing Officer.
Jeff continued his education and training in such things as Sexual Assault Case Investigations, Mental Health, Crime Scene Investigations and EMS. In 1998 Jeff was hired as Chief of the State Center Police Department in Marshall County, a position he held for 21 years until his retirement. Jeff has had the opportunity to volunteer on the Marshall County 911 board, State Center Kaufman Grant Board, State Center Fire/Rescue and is a member of the Iowa State Police Association. Jeff Came to the Meskwaki Nation Police Department in November of 2019 as the Lieutenant in charge of Patrol and Detectives and became Chief in September of 2022. Jeff is married to his wife Misty and has four boys, two of which serve in the Iowa Army National Guard. Jeff has a passion for helping people and has devoted his entire working life to just that. Jeff is a devoted Christian along with his wife Misty and enjoys traveling and spending time together with family and friends. I am so happy and honored to be a member of the Meskwaki Nation Police Department Team and to serve the proud Meskwaki community. I have learned and have so much respect for the Meskwaki Culture. I have been welcomed by our community and could not ask for any more than that.
Read More
Assistant Chief Dustin
Blackburn
Assistant Chief
Dustin grew up in Conrad and graduated from BCLUW in 2003. He attended Loras College in Dubuque. He graduated there in 2007 with a Bachelor of Arts degree in Criminal Justice. Dustin started his law enforcement career in 2008 with the Grundy Center Police Department.
Dustin joined the Meskwaki Nation Police Department in April of 2014 as a part-time officer. He joined the department full-time the next month. Dustin has served as a Police Officer, Sergeant, Lieutenant, and he was promoted to Assistant Chief in May of 2017. He has served the department as a Field Training Officer, Taser Instructor, Evidence Custodian, SORNA coordinator, and numerous other assignments. Dustin completed the Chief of Police Command School at the United States Indian Police Academy in April of 2018. He attended the Department of Homeland Security Leadership Academy session 8 in November of 2019. Dustin has been married since 2010 and has 3 children. In his off time, Dustin enjoys spending time with his family, golfing, and playing video games. He is an avid baseball fan and cheers for the Chicago Cubs.
Read More
Lieutenant Jason
Gudenkauf
Lieutenant
Coming soon.
Read More
Frequently Asked Questions
** 
Department Contact Information
Office Hours
Monday – Friday: 8:00 am – 4:30 pm
Physical & Mailing Address
1632 305th Street
Tama, IA 52339
Phone Number  
Office Telephone: (641) 484-4844

Our officers provide 24-hour coverage.
For 24-hour non-emergency assistance and to be connected to the MNPD officer on duty:
Dial (641) 484-3760 (Meskwaki/Tama County Dispatch telephone number)

Choose option 1

Ask to speak with the MNPD officer on duty
Fax Number
(641) 484-4843
Office Location
We are located on the 2nd floor of the Public Works Building. Use the east side entrance and walk up the stairs to find our office.
Connect With Us on Facebook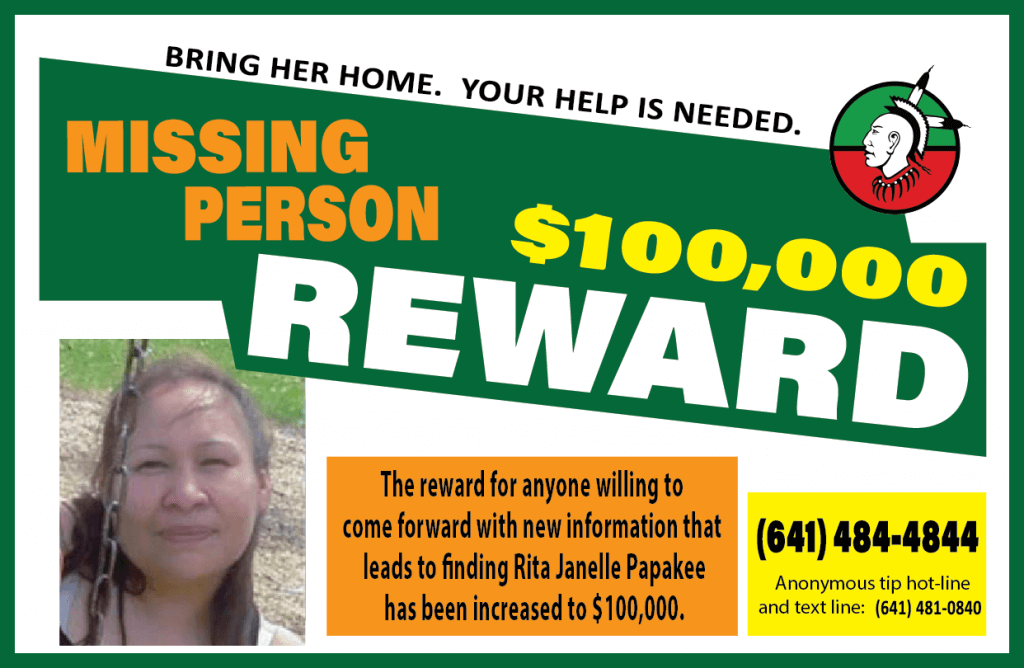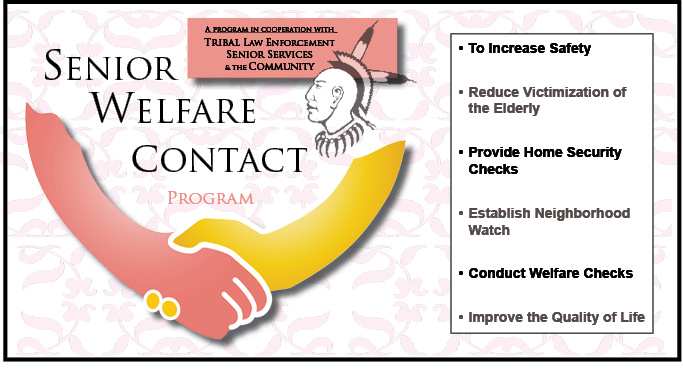 Contact the Meskwaki Nation
Get in touch with our main office if you have general questions or need assistance finding the correct department to contact.