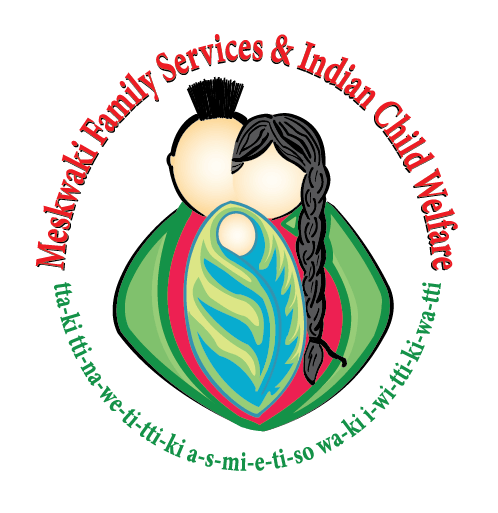 Our Mission
Our mission is to empower children and their families to achieve and maintain a state of well-being while upholding the cultural values of the Tribe and the laws that govern the Tribal community.
What We Do
It is our goal to strengthen families of the Meskwaki Indian Settlement by promoting healthy family functioning in an atmosphere of self-determination and traditional cultural values. Helping people connect with their extended family, community agencies, and resources in a positive way to create a network of support. Individual, Family, and Group counseling are available to help families solve the situations and issues they may face in today's world.

Child Care Assistance Program
The program is designed specifically to help eligible Native Americans pay for childcare
The program is available for children whose parents are working, attending a school/education program, or attending an approved outpatient substance abuse program
This voucher program is available annually (October through September)
Availability is on a first-come, first-served basis
Eligibility
Your child is eligible if you and your spouse are working, attending school/education program, or attending an approved outpatient substance abuse program
How to Apply
Applications are available at Meskwaki Family Services. Applications may also be mailed or emailed out upon request.

Indian Child Welfare Services
Advocacy and Skill Building – Help for Native American families who are involved in Child Protective Cases or are at risk for involvement.
Family Team Meetings – Helping families keep children from out of home placement by bringing key family members together to develop a plan for their future.
Protective Payee Programming – Assisting at-risk families with budgeting of monthly bills and ensuring that the immediate needs of their children are met first and foremost.
Child Care Programming – Providing a Child Care Voucher program that assists with the expense of daycare for working parents and/or parents attending educational programs.
Community Resource Referrals – Information referral assistance to a variety of on settlement and larger community agencies.
Protective Payee Program
Assisting eligible at-risk families with budgeting monthly bills and ensuring that the immediate needs of their children are met first and foremost.
Our Services
We can:
Assist you in developing and/or maintaining money management skills
Provide personal financial assessments
Help with goal setting
Assist with record keeping strategies
Help you develop spending plans (budgeting)
Help you understand your credit and your credit reports
Develop debt management plans
Bill payments – We can oversee the payment of (and staying current with) your monthly living expenses.
Referrals
The protective payee can direct individuals or families in need of social services to the appropriate agency.
Social Security
Meskwaki Family Services also provides payee services for individuals receiving Social Security benefits. This service may be entered on a voluntary basis.
The Social Security Payee Service provides the same services as the Protective Payee Program.

RISE – Resources for Indigenous Survivors & Empowerment
Previously known as Meskwaki Victim Services, RISE (Resources for Indigenous Survivors and Empowerment) serves all of Iowa and seeks to promote a systemic response that holds offenders accountable and fosters a community sensitive to the needs of domestic violence and sexual assault survivors. This will be accomplished through the collaborative and coordinated multidisciplinary response of the agencies and organizations that work with Native American domestic violence and sexual assault survivors and their families.
Our Programs
RISE exists to increase positive outcomes for Native women, children, and their families who are victims/survivors of domestic violence and/or sexual assault and provide outreach/prevention services for the community. In addition to serving women and children, we also proudly work with men, people who cause harm, vulnerable adults, the elderly, and LGBTQIA.
Direct Intervention Assistance
Collaboration
Outreach
Education/Prevention
Family Services Program Staff
Contact Information & Department Hours
Office Hours:
Monday-Friday 8:00am-4:30pm
Physical Address:
1834 340th St Tama Iowa 52339
Mailing Address:
PO Box 245 Tama Iowa 52339
Phone:
Fax:
641-484-2103
RISE Crisis Line 24/7- 641-481-0334 or toll-free 855-840-7362
Connect With Us on Facebook
Resources
Indian Child Welfare Services Resources
RISE Resources
Contact the Meskwaki Nation
Get in touch with our main office if you have general questions or need assistance finding the correct department to contact.