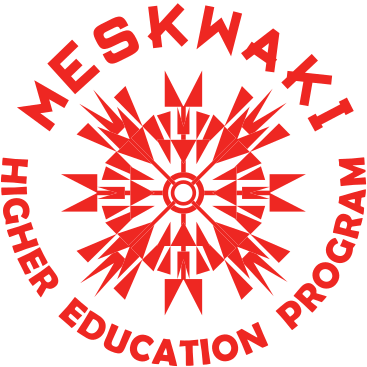 Our Mission
Whether you are an adult ready to make a change or a new graduate just starting out, Higher Education can assist you on your education journey.
About Our Program
The Meskwaki Higher Education Program seeks to achieve the highest, most diverse level of General Educational Development (GED), post-secondary education, and career training opportunities for the Meskwaki people.
The Sac & Fox Tribe faces important social, economic, and cultural challenges as it enters the 21st century. In order to be successful in meeting those challenges, the Sac & Fox Tribe seeks to assist community members in their educational pursuits. We aim to accomplish this through engaging the community, overcoming barriers, and helping tribal members and their descendants succeed through post-secondary education and training opportunities.
What We Help With
Financial support for any course of study that leads to a post-secondary educational degree (AA or AS, BA or BS, Masters and/or Doctorate)
Financial support for adult education and vocational training
Pre-college awareness, career exploration, and support (help completing college applications, filling out financial aid forms, etc.)
Campus visits (local areas)
Financial Aid Information (FAFSA assistance)
Preparation
Overcoming barriers by helping adults procure career and technical (vocational) training through learning opportunities that will advance employment skills.
Engagement
Assisting the community in the pre-college/vocational admissions process and working with members to set and attain educational goals.
Assistance
Supporting members in applying for grants and obtaining financial assistance for college expenses, enrichment programs, testing fees, and more.
Advancement
Encouraging the community as they work to build a strong, highly educated workforce that will continue to preserve Sovereignty, protect traditions, and build a stronger, sustainable Meskwaki Nation now and in the future.
Application Documents
The following application documents are fillable. You must download them onto your computer in order to complete them. After downloading them, please fill them out and email them back to us.
Application Deadlines:
Fall — June 1
Spring — November 1
Summer — March 1
High School Graduation Bios due May 2
Grant Application Documents
Enrichment Application Process
First Nations' Native Agriculture and Food Systems Scholarship
First Nations will award 20 to 25 $1,000 to $1,500 scholarships for the 2019-2020 academic school year to Native American college students majoring in agriculture and agriculture-related fields.
Higher Education Program Staff
Contact Information & Department Hours
Phone Number
Fax Number
(641) 484-2101
Physical Address
1608 305th Street
Tama, IA 52339
Mailing Address
349 Meskwaki Road
Tama, IA 52339
Helpful Links
Scholarship Opportunities for Health professionals
Additional Scholarship Opportunities
Contact the Meskwaki Nation
Get in touch with our main office if you have general questions or need assistance finding the correct department to contact.