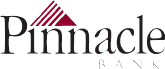 "We do not inherit the earth from our ancestors; we borrow it from our children."
Native Owned With Active Trust Powers
Chartered in 1927, Pinnacle Bank has been 100% native owned by the Sac and Fox Tribe of the Mississippi in Iowa (Meskwaki Nation) since 2009.  They understand the unique challenges facing Native Americans. Their understanding and respect for the Native culture makes partnering with Pinnacle Bank a wise decision.
Pinnacle Bank is one of only 18 tribally owned banks in the United States, and is the ONLY one with active trust powers. This enables them to offer comprehensive trust and investment services for tribes. While tribal ownership is relatively new, bank staff and trust officers bring vast experience in banking with the trust officers having over 60 years of combined experience.
Pinnacle Bank offers customized services which make them a flexible fit to other tribes.  Collaborations with other tribes has been a focus of the bank.   They value proactive participation and strive to create enduring relationships.
Minors Per Capita Trust
Minors trust management is a top priority for their trust department. They believe an integral part of minors trust management is financial literacy. As an independent financial institution, Pinnacle Bank does not have any proprietary investment products to sell or gain a commission on. They research various indexes and back test their investment strategies to ensure that they are competitive with the products they offer. Pinnacle Bank's Native American culturally-specific financial literacy program has been recognized by Native American Finance Officers Association (NAFOA) as their financial literacy program of the year for 2012. The bank has reached out to over 500 minor children with this program so far.
Pinnacle Bank – Marshalltown Office Contact Information
Physical Address & Mailing Address
2206 South Center Street
Marshalltown, IA 50158
1301 South County Road
Toledo, IA 52342
Phone
Marshalltown Office: 641-752-2393
Toledo Office: 641-484-7303
Toll Free
1.800.944.9503
Contact the Meskwaki Nation
Get in touch with our main office if you have general questions or need assistance finding the correct department to contact.