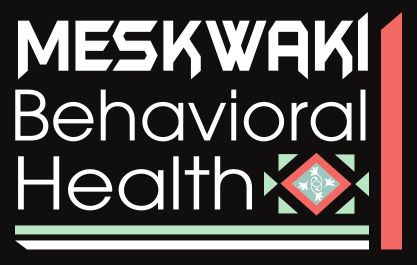 Meskwaki Behavioral Health
Our Mission
Behavioral Health Services' (formerly known as MADAC) mission is to promote healthy practices that develop mental, emotional, physical, and spiritual balance through counseling and prevention services to the Meskwaki Nation in order to promote the health and well-being of individuals, couples, and families.
What We Believe
It's the Meskwaki Settlement's goal for adults, adolescents, children, and families to have optimal physical and behavioral health; where behavioral health, substance abuse, dependency, and addiction are recognized as health issues; and where stigma and other barriers to recovery are eliminated. We serve clients within the Meskwaki Contract Health Services delivery area.
We believe in a holistic approach to restore harmony and unity to the individuals, families, and communities that we serve.
We believe in the highest level of care, while respecting cultural values.
We believe in outreach and assessment of community needs, and advocacy for the provision of those needs.
We believe in strength-based and client-centered treatment with linkages and referrals to other community-based resources for continued recovery.
We believe in a non-judgmental approach with compassion, respect, and dignity for all.
What We Do
Our program consists of substance abuse counselors, as well as licensed mental health counselors and prevention specialists, to help address these need areas. We promote healthy practices that develop mental, emotional, physical, and spiritual balance through culturally sensitive prevention activities and outpatient services for youth, adults, and seniors in the Meskwaki community.
Behavioral Health Services offers outpatient mental health counseling, mental health evaluations, substance abuse evaluations, intensive outpatient substance abuse groups and treatment, as well as referral to higher levels of care for each individual's unique needs.
Specifically, outpatient counseling will be offered for depression, anxiety, bipolar disorder, substance-related concerns, interpersonal issues, schizophrenia, and other mood-related issues. Additionally, outpatient mental health counseling is offered on an individual basis, as well as for couples and families.
In addition to specific services, prevention activities are also offered to clients. Community events and programming that promote health and well-being will be offered on a monthly basis. Providers will work collaboratively with identified treatment team members to assist patients in receiving the care needed to live a healthy and balanced life.
What We Provide
Quality screening, assessment, treatment, and referral services for any Native American residing in the contract health service delivery area.
Culturally competent substance abuse and behavioral health interventions to treat the whole person and family members more effectively.
Functions as an interdisciplinary team, continually exploring and implementing innovative behavioral health interventions that improve the quality of the lives of the individuals and families we serve.
Help to build resilience and facilitate recovery for people with or at-risk for behavioral or substance use disorders.
A supportive, helpful environment with the belief that all people can and do recover from chemical dependency and behavioral health challenges.
Promotion and teaching of healthy practices that develop mental, emotional, physical, and spiritual balance.
Culturally sensitive prevention activities for the youth, seniors and the Meskwaki community.
Our Services
Our behavioral health services include:
Alcohol/drug use screening/assessments
Mental health assessment/treatment
Depression and suicide risk assessment
Crisis intervention services
Psychiatric medication management
Consultation with families on an as-needed basis
Domestic violence referral
Gambling assessment and referrals
Tobacco screenings and referrals
Play Therapy for children ages 3 and above
Frequently Asked Behavioral Health & Substance Abuse Questions
What is the usual process and how do I receive treatment?
The typical admissions process is as follows:
Call and schedule an evaluation with one of our substance abuse counselors.

Generally, depending on demand, there may be a few days to one week wait for evaluation.

Meet with a substance abuse counselor for an evaluation.

During the evaluation, you will fill out some paperwork and speak with a counselor about your substance abuse history, as well as some information about your personal/family history
This should take about 1.5-2 hours at maximum including completion of paperwork.

During the evaluation, your counselor will discuss with you the different levels of care available for substance abuse treatment, and you will work together to determine which is the most appropriate for you at that time.
You will work with your counselor at the time of intake to create a treatment plan that addresses the goals that you are working towards and the steps that you are going to take with the assistance of the program to get there.
What are the levels of care for substance abuse treatment?
DETOXIFICATION
Requires active and ongoing substance abuse.
Generally a short-term/meant to detox your system of substances before moving to the next treatment.
 Generally can get a detox bed within 1-2 days.
INPATIENT / RESIDENTIAL
Highest level of care and generally longer term (30 days – 6 months+).
Highly structured environment where you are not permitted to leave the unit.
Often fewer beds available at any given time due to treatment being long term.
Depending on bed availability and type of facility, wait for inpatient treatment can be anywhere from 1 week to 1 month.
SOBER LIVING
Step-down from inpatient treatment to re-integrate into the community, and generally have to have successfully completed an inpatient placement in order to be eligible for sober living.
Often in a house/apartment where there is structure and rules/expectations, but clients are free to come and go during the day, to work, and to spend time outside of the house.
Generally last 6 months to 1 year.
OUTPATIENT
Attend 2-3 group therapy sessions per week and 1-2 individuals substance abuse counseling sessions per week.
Work towards developing harm reduction, coping and symptom management, and relapse prevention skills.
Can begin immediately after evaluation.
AFTER CARE
Step-down from outpatient treatment.
Generally 1 group per week and 1 individual per week.
Begun upon successful completion of outpatient treatment.
Can I schedule an appointment for my friend or family member?
Because of privacy laws, we are unable to schedule appointments made by anyone other than the intended client, UNLESS client is under the age of 18 and has a legal guardian.
*Outpatient treatment is voluntary so we are unable to provide treatment for someone who is refusing care.
Why did my friend/family member who got evaluated after me get admitted to treatment before me?
There are many factors that influence placement in treatment including: bed availability, type of insurance, an individual's treatment history, medication management concerns, recent criminal charges (specifically assault), etc.
Do you provide transportation?
Transportation is provided for things that are related to substance abuse treatment. This includes:
Transport to and from AA meetings 5 days per week.
Transport to and from groups or mental health appointments.
Transport to treatment facilities (i.e. inpatient, residential).
Transport home from treatment if treatment is completed successfully AND the individual does not leave treatment against medical advice.
NO TRANSPORT is provided to detoxification treatment due to potential medical instability of individuals.
When does discharge from the program occur?
Client may be discharged from the program when they successfully complete outpatient and/or aftercare treatment and have developed a relapse prevention plan to transition out of treatment.
Client may be involuntarily discharged if client consistently does not attend appointments and is unresponsive to outreach attempts via phone, letter, or in person.
Behavioral Health Services Team
Celise Bullard
Health Clinic
Adonica Hennessy, LISW
Mental Health Counselor
Health Clinic
641-484-9482
Stephanie Moore, MA, IADC
Substance Abuse Counselor
Health Clinic
641-484-9482
Nicolette Nefzger, LMFT
Mental Health Counselor
Health Clinic
641-484-9482
Larry Newman, DNP, AGNPPC-BC, ARNP
Psychiatric Mental Health Nurse Practioner
Health Clinic
641-484-9482
Amanda Papakee, LMFT
Mental Health Therapist
Health Clinic
641-484-9484
Nina Youngbear
Health Clinic
Contact Information & Department Hours
Department Hours
Monday-Friday: 8 a.m. – 430 p.m.
CRISIS LINE: 1-855-581-8111
Available after hours and on weekends and holidays, contact Elevate Iowa at (855) 581-811.
Crisis Text (855) 895-8396 to reach someone.
Fax Number
(641) 484-9477
Mental Health Phone Number
If you would like to find out more about the program's mental health services or schedule a mental health appointment or evaluation, please call (641) 484-4094.
Substance Abuse Phone Number
If you would like to find out more about the program's substance abuse services or schedule a substance abuse evaluation or appointment, please call (641) 484-9482.
Physical & Mailing Address
1646 305th Street
Tama, IA 52339
Connect With Us on Facebook
Contact the Meskwaki Nation
Get in touch with our main office if you have general questions or need assistance finding the correct department to contact.