Special Election
August 25 @ 8:00 am

-

8:00 pm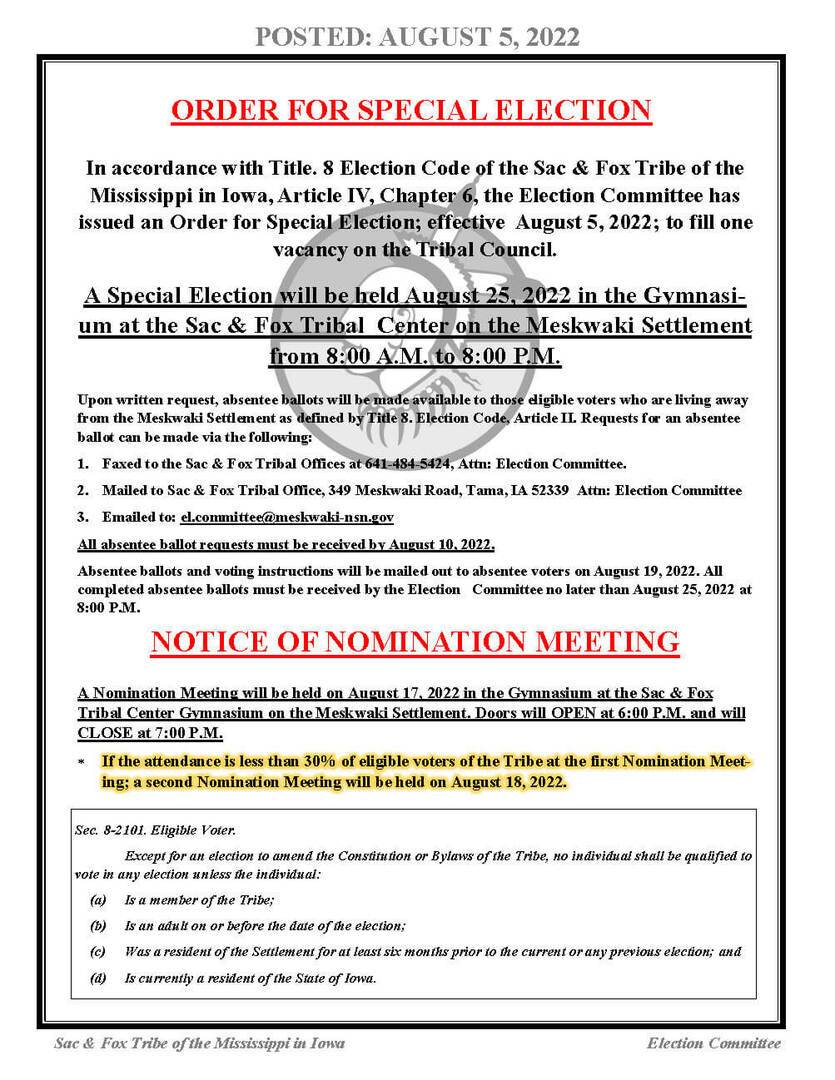 ORDER FOR SPECIAL ELECTION
In accordance with Title. 8 Election Code of the Sac & Fox Tribe of the Mississippi in Iowa, Article IV, Chapter 6, the Election Committee has issued an Order for Special Election; effective  August 5, 2022; to fill one vacancy on the Tribal Council.
A Special Election will be held August 25, 2022 in the Gymnasium at the Sac & Fox Tribal  Center on the Meskwaki Settlement from 8:00 A.M. to 8:00 P.M.
Upon written request, absentee ballots will be made available to those eligible voters who are living away from the Meskwaki Settlement as defined by Title 8. Election Code, Article II. Requests for an absentee ballot can be made via the following:
Faxed to the Sac & Fox Tribal Offices at 641-484-5424, Attn: Election Committee.
Mailed to Sac & Fox Tribal Office, 349 Meskwaki Road, Tama, IA 52339 Attn: Election Committee
Emailed to: [email protected]
All absentee ballot requests must be received by August 10, 2022.
Absentee ballots and voting instructions will be mailed out to absentee voters on August 19, 2022. All completed absentee ballots must be received by the Election   Committee no later than August 25, 2022 at 8:00 P.M.
NOTICE OF NOMINATION MEETING
A Nomination Meeting will be held on August 17, 2022 in the Gymnasium at the Sac & Fox Tribal Center Gymnasium on the Meskwaki Settlement. Doors will OPEN at 6:00 P.M. and will CLOSE at 7:00 P.M.
* If the attendance is less than 30% of eligible voters of the Tribe at the first Nomination Meeting; a second Nomination Meeting will be held on  August 18, 2022,
Related Events