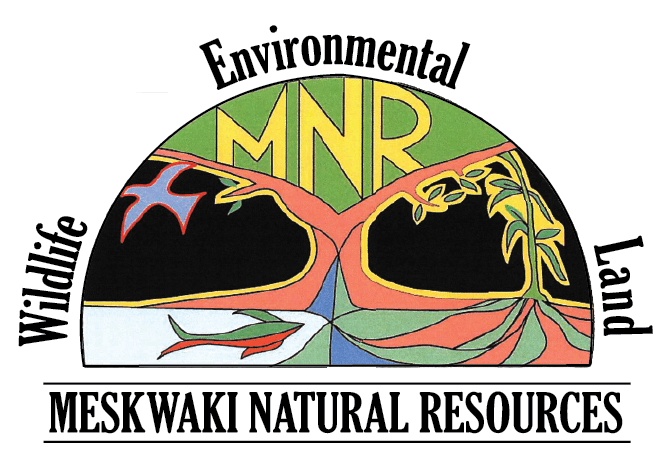 The Meskwaki Buffalo Herd is composed of around 45-55 buffalo on approximately 205 acres of mixed pasture and forested areas that is classified as the Meskwaki Settlement-Buffalo Refuge Area.
Buffalo Refuge
The land and grazing area for the buffalo includes 205 acres: 155 acres of open grassland, including a restored native prairie, and 50 acres of Oak-Hickory timber.  The 205 acres encompass a small creek and a natural seep providing a natural water supply, supplemented by installed watering tanks in three different locations. The Tribe passed a resolution in 2009 approving the setting of the Buffalo area as the "Meskwaki Settlement-Buffalo Refuge Area." The area offers two smaller paddocks of 26 acres each; this is set aside and currently hayed by an outside contractor at a cost to the Department. The two smaller paddocks have been reseeded in 2010 to allow for better winter grazing opportunities and allow for limited hay production. In the fall of 2015 the middle prairie acreage was reseeded with native prairie. Planning for a 75-acre expansion to the buffalo refuge began in 2016. This acreage prior to the expansion was farmland, but due to the constant low yields, poor road quality, and an increase rill and gully erosion, it was taken out of crop production. The area was seeded to native prairie during the winter of 2017/2018 and the fence was completed in 2020. This addition of 75 acres will be used to assist with rotational grazing, alleviating stress from the prairie and pastures. In 2016, MNR started the Buffalo Expansion project. This project consisted of an additional 75 acres, making it a total of five paddocks for the buffalo. The paddocks also have two water tanks as a clean water source that also allows for more family herd development. 
During the Winter of 2017-2018, staff planted 12 different grasses and 33 different forbs inside the Buffalo Refuge. These plants will be beneficial to our Tribal Buffalo as they graze in the paddocks. 
In 2018, MNR proposed a project for an expansion on the Coral. The expansion increased the amount of Buffalo we can hold for the Buffalo round-up that happens every fall and increases the level of safety for the animals and staff during the annual round-up, along with reducing the amount of stress placed on the animals during round-up while helping separate the bulls from cows and calves.
Buffalo Herd
The buffalo play a strong cultural role within the Meskwaki lifestyle, they are here to complete the Meskwaki way of life, and they are not feedlot animals, but are treated as wildlife.
In December of 2006, the Meskwaki tribe received their first 25 buffalo. The herd was comprised of: 8 adult bulls, 10 adult cows, and 8 males less than 2 years, 5 females less than 2 years, 2 unknown sexes less than 2 years of age. The buffalo continue today, to be managed by the Meskwaki Natural Resource department at the South Farm. Every fall we have a Buffalo round-up for a day. This process allows us to do DNA sampling, buffalo health checks and vaccines if needed. During the winter months, the buffalo are given hay as supplemental feed that is cut from the agriculture fields that the tribe own. We start the hay process soon as it starts to snow and continues until April. In 2021, MNR will starting a rotational grazing plan that will allow the buffalo to graze native prairie in all five paddocks. The Buffalo will hang out, eat, wallow and drink water in one paddock for 2 weeks and rotate them to another paddock. In order to move the buffalo, we are providing a feeder that holds a salt and mineral block along with a bag of dewormed feed. Salt and Mineral blocks are very beneficial to our Buffalo Health. Not having the blocks, the buffalo can have growth issues, parasite or diseases, muscle growth, reproduction and immune and enzyme function. MNR treat the buffalo with Respect and treat them as Wildlife.
Meat and Non-Edible Parts Distribution
MNR harvests a set amount of buffalo every year to supply a source of meat to tribally enrolled members. Meat is administered through scheduled distribution days throughout the fall and winter, until the year's supply has been depleted. It is MNR's goal to get as much meat to as many people in the community. MNR partners with the Senior Services to supply buffalo meat to elders and seniors. Additionally, meat is saved for departmental events if buffalo meat is needed for meals.
Buffalo parts, which include edible organs along with non-edible parts such as ribs, skull, and hide, are saved for enrolled members to request. These items are available upon request on a first-come, first-served basis.
Learn More About the MNR Department
Visit our department page to learn more about our different branches and check out our recent projects.