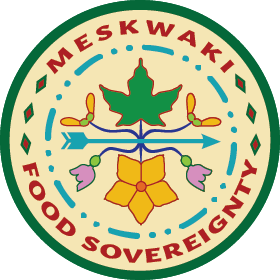 Meskwaki Food Sovereignty
Our Mission
It's our mission to secure food sovereignty by seeding, growing, and harvesting Meskwaki Indigenous knowledge and life-ways.
What We Do
Meskwaki Food Sovereignty is a program that organizes the local and traditional food initiatives for our tribal community. We also serve as an incubator for the department's programs PTEC and Summer Youth Employment to learn about traditional foods, growing, harvesting, and job skills through on-the job training.
Coming Soon – Youth Agriculture Club
Meskwaki Food Sovereignty aims to educate our youth by developing an agriculture club with a focus on Meskwaki food systems, agriculture, and land stewardship. Through club activities our youth will learn from tribal knowledge keepers that will preserve our tribal values and practices and through guest speakers our youth will be exposed to agriculture careers and initiatives to increase our local food system.
What We Do
Community-based Projects
Community Ketikanani
Seed Saving
Seed & Transplant Giveaway
Tiling Services
Community Meals
Workshop & Cooking Demonstrations
Food Sovereignty Staff
Our MFSI team is part of the Workforce Development department. 
Program Contact Information & Hours
Operating Hours
Monday-Friday 8:00 a.m. – 4:30 p.m.
Phone Number
Physical & Mailing Address
3134 H Ave Tama, IA 52339
Stay Connected With MFSI on Facebook
Contact the Meskwaki Nation
Get in touch with our main office if you have general questions or need assistance finding the correct department to contact.