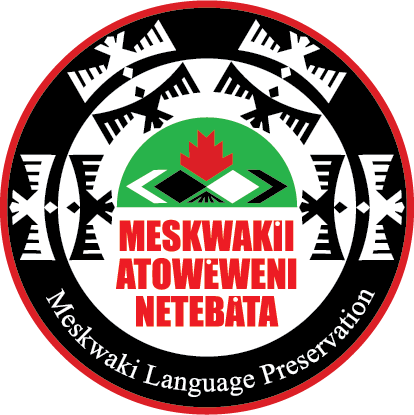 Our Mission
The mission of the Meskwaki Language Preservation Department is to promote language use, develop language resource materials for community, develop classroom resources for school and program sponsored classes, establish a repository of language materials, develop language learning programs, develop language teachers, and provide for the establishment of Meskwaki language classes.
About Language Preservation
Our language carries our identity. We, the Meskwaki people, will remain strong in our culture, past, present, and future, by continuing to speak our language. Meskwaki Language Preservation promotes language use and language learning in our community.
Meskwaki Atowewenwi is what drives local language revitalization initiatives. Each initiative is designed to address one or more or the following community goals:
Develop effective language teachers

Promote Meskwaki speaking in the community

Strengthen and sustain language resources

Establish effective language revitalization programs
Through partnerships with Meskwaki speakers and other organizations, the Meskwaki Language Preservation Department aims to build quality services that foster a healthy language community to ensure the continued existence of the Meskwaki language.
Program Milestones
In the summer of 2012, the Meskwaki Language Preservation instituted a pilot immersion project for children ages 3 to 5 at the Meskwaki Settlement School.

In 2014, through Tribal Council Resolution, the Early Childhood and Pre-Kindergarten programs transitioned into a Meskwaki immersion program.  

In July of 2014, The Meskwaki Language Revitalization Strategic Plan developed by a representative group of community members and tribal operations departmental staff was adopted by Tribal Council Resolution.

In 2014, we  launched the "Meskwaki Atoweno" poster campaign promoting the use and learning of the Meskwaki language.

In 2014, Tribal Employee Lunch and learn Language class was held once a week in the tribal gym to encourage Meskwaki Language usage in Tribal Departments. Several card games and language booklets were developed to encourage the utilization and learning of the Meskwaki language.

In 2015, The Meskwaki Language App was developed for use on Apple phones. The phone app was made available to the tribal community in December of that year. 

In August of 2016, the Android version of the Meskwaki Language app was made available to the community.

In 2016, the Meskwaki Language iBook series was developed and available for download through the Apple Store. A total of  eleven (11) iBooks have been developed. 

In 2017, a pilot project on adult immersion was initiated at the Meskwaki Settlement School to increase language skills of Language Teacher Assistants.

In 2017, a pilot Meskwaki Reading and Writing class was implemented

In 2017, Beginning Adult Language Classes were offered to the community during the month of April. There were two beginning adult classes that consisted of 10 participants each.

In 2017, Beginning Adult Classes Levels II were added. 

In 2018 March, Level III Beginning Adult Class were added.

In June of 2018, Two additional language instructors were hired.  

In July of 2018, Level IV and V Beginning Adult Classes were added.

In March of 2020, operations cease due to Covid 19 restrictions

In September of 2020,  Zoom classes were implemented in order to complete the disrupted classes.

In 2021,  new Zoom classes commenced, including two Level I classes, two Level II classes, two Level III classes, and one Level IV Class. These classes encompassed a total of 68 language learners.

To date, 275 individuals have contacted the program to express their interest in participating in the language classes.
Frequently Asked Questions
How can I sign up for the Meskwaki Language for Adult Beginners classes?
Language Preservation Staff
Contact Information & Office Hours
Office Hours 
Monday-Friday: 8 a.m. – 4:30 p.m. 
Phone Number
Physical Address
303 Meskwaki Road
Tama, IA 52339
Mailing Address
349 Meskwaki Road
Tama, IA 52339
Connect With Us on Facebook
Language Preservation Resources
Contact the Meskwaki Nation
Get in touch with our main office if you have general questions or need assistance finding the correct department to contact.