Jan
9
Wed
Healthy Recipe Submission Date @ Meskwaki Health Clinic
Jan 9 all-day
Tribal Council Meeting @ Tribal Chambers
Jan 9 @ 5:00 pm – 6:00 pm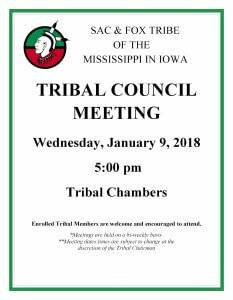 The next Tribal Council Meeting will be held on Wednesday, January 9, 2019. The meeting will start at 5:00 pm and take place in the Tribal Chambers.
Enrolled Tribal Members are welcome and encouraged to attend.
*Meetings are held on a bi-weekly basis.
*Meeting dates/times are subject to change at the discretion of the Tribal Chairman.

Jan
16
Wed
Healthy Recipe Cook-Off @ Meskwaki Tribal Center
Jan 16 @ 5:00 pm – 7:00 pm
Jan
17
Thu
MBCH Owner Appreciation Meal
Jan 17 @ 8:34 pm – 9:34 pm

Sun
Mon
Tue
Wed
Thu
Fri
Sat

Tribal Ops Closed

Tribal Ops Closed

Jan 1 all-day

Tribal Operations including the Health Clinic and Pharmacy will be closed on Friday, January 1, 2021 in observance of the  New Year holiday. Normal business hours will resume Monday, January 4th.

How to Start Your Own Business Webinar with Michael Shuman 10:00 am

How to Start Your Own Business Webinar with Michael Shuman

@ via Zoom

Jan 14 @ 10:00 am – 11:30 am

Meskwaki SettFitt Challenge Part 1

Meskwaki SettFitt Challenge Part 1

Jan 18 – Feb 28 all-day

Diabetes Support Group: Relationship Between Diabetes and Depression/Mood Disorders 12:00 pm

Tribal Council Meeting 5:00 pm

Tribal Council Meeting

@ via Zoom

Jan 19 @ 5:00 pm

The Tribal Council meeting previously scheduled for Wednesday, January 13 has been rescheduled to be held on Tuesday, January 19 beginning at 5:00 pm via Zoom. Due to Covid-19 and for the safety of participants, …

Continue reading Tribal Council Meeting →