Mar
23
Mon
Temporary Closure Settlement School
Mar 23 – May 27 all-day
Meskwaki Settlement School
Starting Thursday, March 19th the Meskwaki Settlement School, including offices, will be closed.   However, the elementary and middle/high schools will be open this Wednesday, March 18th from 2-6pm to allow students to retrieve essential items (like medication, laptops, etc.).  If you need to get your child's medication, an authorized adult MUST sign for it.  It cannot be given to children.  We are in the process of sanitizing our buildings, so access should be quick and targeted to retrieve only the items you need.  Communication regarding academic support will be sent home from the school later today.  Families may utilize the email directory located on the school's webpage to connect with staff during the closing.
Dec
1
Tue
Buffalo Meat Distribution for Seniors and Elders @ Meskwaki Senior Services
Dec 1 @ 11:30 am – 12:30 pm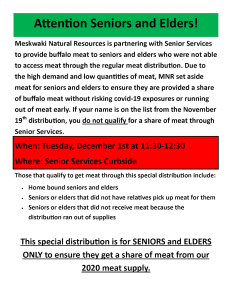 On Tuesday, December 1st Meskwaki Natural Resources is partnering with Senior Services to provide buffalo meat to seniors and elders who were not able to access meat through the regular meat distribution. Due to the high demand and low quantities of meat, MNR set aside meat for seniors and elders to ensure they are provided a share of buffalo meat without risking covid-19 exposures or running out of meat early. The distribution will take place at the Seniors starting at 11:30am and will end at 12:30pm. This special distribution is for SENIORS and ELDERS ONLY to ensure they get a share of meat from our 2020 meat supply. Those that qualify to get meat through this special distribution include: Home bound seniors and elders, Seniors or elders that did not have relatives pick up meat for them, Seniors or elders that did not receive meat because the distribution ran out of supplies. If your name is on the list from the November 19th distribution, you do not qualify for a share of meat through Senior Services.