When:
September 20, 2021 – September 30, 2021
all-day
2021-09-20T00:00:00-05:00
2021-10-01T00:00:00-05:00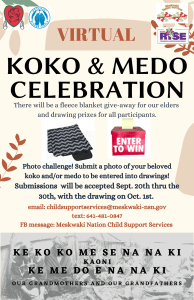 Join us for our Virtual Koko & Medo Celebration!
Fleece blankets will be given to our elders and there will be drawing prizes for all participants.
Photo Challenge: Submit a photo of your beloved koko and/or medo to be entered into the drawings.
How to Enter: Photo Challenge submissions can be emailed to childsupportservices@meskwaki-nsn.gov, sent via text to (641) 481-0847 or you can FB message them to
Meskwaki Nation Child Support Services
.
*Submissions will be accepted beginning September 20th through September 30th.
**Drawing will be held on October 1st.
Event sponsored by: Meskwaki Nation Child Support Services, Meskwaki Elders Circle, Meskwaki Senior Services, Resources for Indigenous Survivors & Empowerment (R.I.S.E.)