When:
May 21, 2019 @ 7:00 pm – 8:00 pm
2019-05-21T19:00:00-05:00
2019-05-21T20:00:00-05:00
Where:
Meskwaki Tribal Center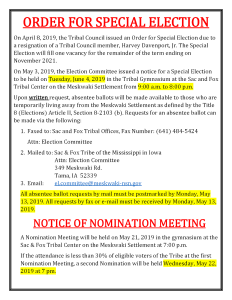 On April 8, 2019, the Tribal Council issued an Order for Special Election due to a resignation of a Tribal Council member, Harvey Davenport, Jr. The Special Election will fill one vacancy for the remainder of the term ending on November 2021.
On May 3, 2019, the Election Committee issued a notice for a Special Election to be held on Tuesday, June 4, 2019 in the Tribal Gymnasium at the Sac and Fox Tribal Center on the Meskwaki Settlement from 9:00 a.m. to 8:00 p.m.
Upon written request, absentee ballots will be made available to those who are temporarily living away from the Meskwaki Settlement as defined by the Title 8 (Elections) Article II, Section 8-2103 (b). Requests for an absentee ballot can be made via the following:
Faxed to: Sac and Fox Tribal Offices, Fax Number: (641) 484-5424
Attn: Election Committee
Mailed to: Sac & Fox Tribe of the Mississippi in Iowa
Attn: Election Committee
349 Meskwaki Rd.
Tama, IA  52339
Email: committee@meskwaki-nsn.gov
All absentee ballot requests by mail must be postmarked by Monday, May 13, 2019.
All requests by fax or e-mail must be received by Monday, May 13, 2019.
Notice of nomination meeting
A Nomination Meeting will be held on May 21, 2019 in the gymnasium at the Sac & Fox Tribal Center on the Meskwaki Settlement at 7:00 p.m.
If the attendance is less than 30% of eligible voters of the Tribe at the first Nomination Meeting, a second Nomination will be held Wednesday, May 22, 2019 at 7 pm.