When:
June 28, 2019 @ 5:00 pm – 7:00 pm
2019-06-28T17:00:00-05:00
2019-06-28T19:00:00-05:00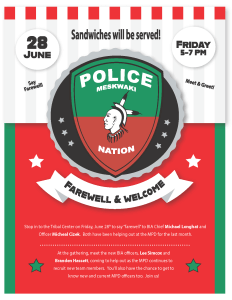 Stop in to the Tribal Center on Friday, June 28th to say "farewell" to BIA Chief Michael Longhat and Officer Michael Cizek. Both have been helping out at the MPD for the last month.
At the gathering, meet the new BIA officers, Lee Simcox and Branden Hassett, coming to help out as the MPD continues to recruit new team members. You'll also have the chance to get to know new and current Meskwaki Police Department officers too. Join us!
Friday, June 28th from 5:00 – 7:00 pm at the Tribal Center. Sandwiches will be served!