When:
January 31, 2019 @ 6:30 pm – 9:30 pm
2019-01-31T18:30:00-06:00
2019-01-31T21:30:00-06:00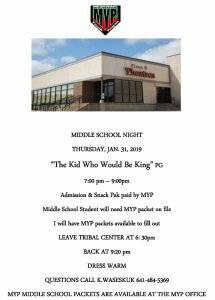 Movie at Plaza 9 Theaters
"The Kid Who Would Be King" PG
Leaving the Tribal Center at 6:30 pm.
Admission and snack pack paid for by MYP. Middle School student will need MYP packet on file. Kay will have MYP packets available to fill out.
For questions, call K. Waseskuk (641) 484-5369