Meskwaki Youth Deer Hunt
November 20, 2021

-

November 21, 2021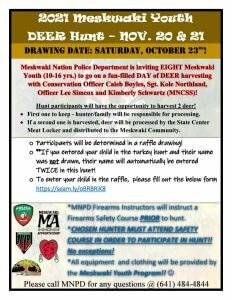 2021 Meskwaki Youth Deer Hunt – November 20th & 21st
Drawing Date: Saturday, October 23
Meskwaki Nation Police Department is inviting EIGHT (8) Meskwaki Youth (10-16rs) to go on a fun-filled day of deer harvesting with Conservation Officer Caleb Boyles, Sgt. Kole Northland, Officer Lee Simcox and Kimberly Schwartz (MNCSS)!
Hunt participants will have the opportunity to harvest two (2) deer!
First one to keep – hunter/family will be responsible for processing.
If a second one is harvested, deer will be processed by the State Center Meat Locker and distributed to the Meskwaki Community.
Participants will be determined in a raffle drawing!
If you entered your child in the turkey hunt and their name was not drawn, their name will automatically be entered TWICE in this hunt!
To enter your child in the raffle, please fill out the form >  https://seam.ly/5GDxBxqz
*MNPD Firearms instructor will instruct a Firearms Safety Course PRIOR to hunt.
*Chosen hunter must attend safety course in order to participate in hunt,. No exceptions.
All equipment and clothing will be provided by the Meskwaki Youth Program.
Please call MNPD for any questions at 641-484-4844.
Related Events