When:
November 25, 2019 @ 9:00 am – 3:00 pm
2019-11-25T09:00:00-06:00
2019-11-25T15:00:00-06:00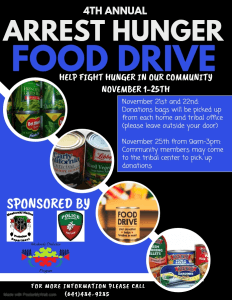 Help Fight Hunger In Our Community! The 4th Annual Arrest Hunger Food Drive is  currently being held from November 1st through November 25th. There will be Donation bags and/or boxes left at each home and Tribal Office on the Settlement. Your support is greatly appreciated!
During the Meskwaki Veterans Powwow at the Meskwaki High School on Saturday, November 9th there will be a donation box available to place food drive donations.
On November 21st and 22nd the Probation department, Police Department and Diabetes Program will be collecting donations from each home and tribal office, (please leave outside your door).
On November 25th from 9:00 am to 3:00 pm community members may come to the Tribal Center to pick-up donations.
For more information please call (641) 484-9285.
The 4th Annual Arrest Hunger Food Drive is sponsored by: Meskwaki Nation Probation Department, Meskwaki Nation Police Department, Meskwaki Diabetes Program.