When:
June 27, 2021 @ 1:00 pm – 2:00 pm
2021-06-27T13:00:00-05:00
2021-06-27T14:00:00-05:00
Where:
Meskwaki Powwow Grounds

Contact:
Officer Caleb Boyles
641-481-5916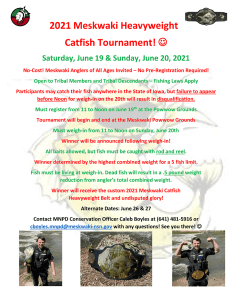 2021 Meskwaki Heavyweight Catfish Tournament
Saturday, June 26, 1 PM – 2 PM
Sunday, June 27, 1 PM – 2 PM
Meskwaki Powwow Grounds, Tama IA
Meskwaki anglers of all ages are invited to participate! No pre-registration required and at no cost! This event is open to tribal members and descendants – fishing laws apply
Participants may catch their fish anywhere in the Sate of Iowa, but failure to appear before 12 PM, noon, for weigh-in on June 20 will result in disqualification.
Details for tournament:
You must register between 11 AM to 12 PM  on Saturday, June 19 at the Meskwaki Powwow Grounds.
Tournament will begin and end at the Meskwaki Powwow Grounds.
You must bring your fish to weigh-in between 11 AM to 12 PM on Sunday, June 20.
Fish must be living at weigh-in. Dead fish will result in a .5 pound weight reduction from angler's total combined weight.
All baits allowed, but the fish must be caught with rod and reel.
Winner will be determined by the highest combined weight for a 5 fish limit.
Winner will be announced following the completion of weigh-ins!
The catfish tournament winner will receive the custom 2021 Meskwaki Catfish Heavyweight Belt and undisputed glory!
*Alternate dates: June 26-27
Contact MNPD Conservation Officer Caleb Boyles at (641) 481-5916 or by email, cboyles.mnpd@meskwaki-nsn.gov, with any questions.
Hosted by the Meskwaki Nation Police Department