Meskwaki Health Services is proud to provide medical and dental services.
In the event that you cannot keep your appointment,
please give us a call immediately to cancel or reschedule.
Call us at:  641.484.4094
Hours of Operations:
8:00 am to 4:30 pm – Monday thru Friday
8:00 am to Noon – Saturday
Mission:
To promote wellness, prevent disease, and treat disease within the Sac & Fox Tribe of the Mississippi in Iowa community.  As an organization, we are committed to working in partnership with the community to support health and wellness, to provide healthcare for individuals and families in the physical, mental, emotional, and spiritual healing process.
The Tribal Health Clinic will promote a healthy environment and provide the highest quality care by maximizing all available resources honoring Sac & Fox Tribe of the Mississippi in Iowa traditions, respecting the dignity of each person, and observing the highest possible moral and ethical standard.
The Meskwaki Tribal Health Clinic provides two types of health care services: "Direct Care" and "Contract Health Services (CHS)". These two types of services have their own set of rules and guidelines concerning Eligibility.
Patient Portal:
Our secure patient portal allows you to exchange secure messages with your Physician, receive test results and requisitions, and helps you maintain an ongoing healthcare relationship with your doctor and practice staff.  Click here to access.

Pharmacy Refills:
Check out our NEW app for website and mobile devices.  You can request refills on the go using Rx2Go, an app for your mobile device.  Download it for -phones and/or android devices.  Click here to find out more.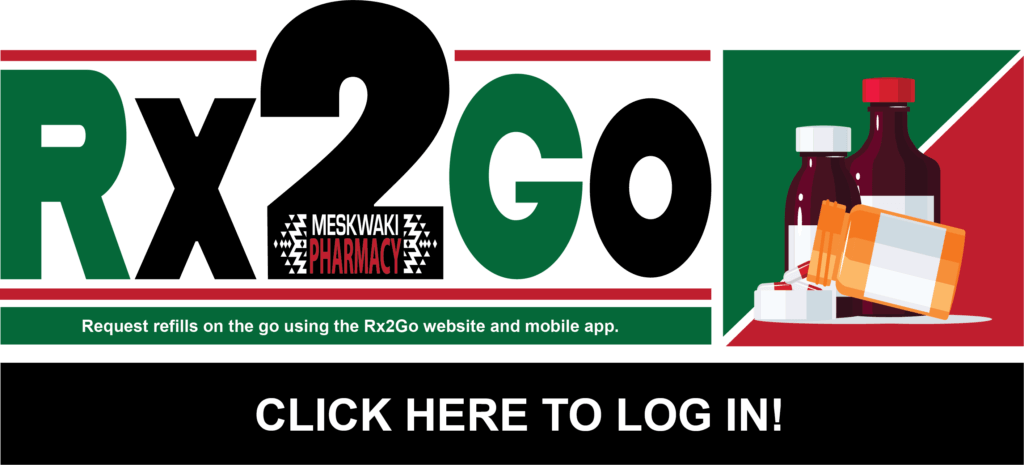 Direct Care:
Direct Care is care that is provided within the Meskwaki Tribal Health Clinic. The patient must meet the following requirements to be eligible for Direct Care:
Patient is required to provide proof of being an enrolled member, or a descendant of an enrolled member, of a federally recognized tribe. A 30 Day Requirement for Proof Notice is signed by the patient. This notice allows the patient 30 days from date signed to provide this proof to the clinic. If proof is not provided, routine/non-emergency care will be discontinued.
Other Persons Eligible:
Non-Indian woman pregnant with an eligible Indian's child through duration of the pregnancy & up to 6 weeks post-partum. (Eligible services are for pregnancy related conditions)
Non-Indian member of the eligible Indian's household for a public health hazard (decision made by Health Service Director and Clinical Director)
Non-Indian adopted, foster or step children of an eligible Indian's household up to 19 years of age.
Contract Health Services:
Contract Health Services is intended to provide care away from a direct care facility.  Patient must meet the direct care requirements and provide proof when requested.
The Contract Health Service (CHS) Program is not an entitlement program and a patient must meet the residence requirement which is Tama County to be deemed eligible for the Sac & Fox Tribe Contract Health Service (CHS) Program.
PLEASE CONTACT CONTRACT HEALTH SPECIALIST, NATALIE WANATEE, FOR QUESTIONS ON THE CHS PROGRAM.
First Nurse:
First Nurse is 24 hour nurse answering service.  When calling the Clinic during non-business hours, your call will be forwarded to First Nurse who can assist you.
We Provide:
Ambulatory Care Service
Limited Radiology
Mental Health
LAB
Podiatry
Diabetes Clinic
Pharmacy
Nutrition Counseling
Dental
Contract Health
Benefits assistance (Medicare, Medicaid, Iowa Care, etc.)
Community Health Representatives
Pediatric Clinic
Wellness Services
Please call the clinic @ 641.484.4094 to schedule an appointment or to speak with staff.
CLINIC STAFF

| | |
| --- | --- |
| Health Director | Rudy Papakee, MHA |
| Clinic Medical Director | Dr Leighton Frost, MD |
| Family Nurse Practitioner | Anthony Glydwell |
| Family Nurse Practitioner | Alicia Barron |
| Dentist | Robert Bowers, DDS |
| Pharmacy Director | Patrick Bolte, PharmD |
| Clinic Nurse Manager | Sara Augspurger, RN |
| Behavioral Health Director | Vacant |
| Diabetes Program Coordinator | Linda Winter Chaser, BS |
| Licensed Mental Health Counselor | Vacant |
| Medical Lab Technologist | Shirley Ward |
| | |
Physical Address:
Mailing Address:
Phone: 641.484.4094
1646 305th Street
Tama, IA 52339
1646 305th Street
Tama, IA 52339
Fax: 641.484.2432